Quality Pre-Run, Pre-Tested Remanufactured Marine Engines
ISO 9002 CERTIFIED
Direct Replacement Engines for:
Mercruiser – OMC – Volvo – Penta – Chrysler – Chevrolet
Chris Craft – Commander Crusader – Ford – Glasstron
Indmar – Marine Power – Osco – Interceptor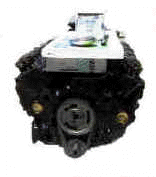 Like we say with our transmissions, no healthy engine should go to waste. That's why remanufacturing is an essential part of Marine Engines, Inc. It allows us to maintain our inventory with products that are as good as new, all set at low, competitive prices. Because no engine should fail on you, or put a serious dent in your wallet.
Our remanufactured engines are pre-run and pre-tested, ensuring you the top quality you'll need from them. With ISO-9002 certification, all of our products feature special high-torque marine camshaft, marine gasket sets, brass freeze plugs, hypereutectic marine pistons and where applicable, double roller timing chains. And, for those looking to buy LH and RH engines, we have those in stock, too.
Marine Engines, Inc. only offers products that we know will get the job done, like remanufactured engines by First Mate, one of the most trusted brands in the business. And we'll ship them anywhere inside and outside of New England. It's this knowledge of the industry and expertise that has kept our customers coming back for all of their marine engine needs.
For more information on our used marine engines, contact Marine Engine, Inc. today!
ALL Engines Feature:
Special High-Torque Marine Camshaft, Marine Gasket Sets, Brass Freeze Plugs, Hypereutectic Marine Pistons and where applicable, Double Roller Timing Chains
LH and RH engines in stock!
Ultra High Performance Engines up to 725 HP available
18 Month Warranty on Non-Race Type Engines – Big Labor Allowance
*Core Required on most remanufactured engines
Warranty is 18 months on non-race motors.

1 year Warranty on 5.7 'Specials', with tin

Add $200.00 for Reverse Rotation (except Roller Applications).

Add $ 125 for 4 bolt mains

2.5-3.0 GM 4 cyl
$2,189*
229 GM V6
$2,039
250 GM L6
$2,045
262 (4.3) V6 (2 pc. seal)
$2,050
262 (4.3) V6 (1 pc. seal)
$2,189
262 (4.3) V6 (w/ roller + bal. shaft)'93-'95
$1,995
262 (4.3) V6 (8 bolt intake) Vortec '96-'99
$2,299
262 (4.3) V6 (8 bolt intake)Vortec '00-'07
$2,299
$2089
305 (5.0) V8 '86-Only
$2,089
305 (5.0) V8 '87-'95 Flat Tappet
$2,139
305 (5.0) V8 '97-up Vortec roller
$2,369
350 (5.7) V8 '68-'85
$2,089
350 (5.7) '86-'95 flat tappet
$2,139
350 (5.7) V8 '86-'96 roller Pre-Vortec Special engine, with oilpan + covers
$3249*
350 (5.7) V8 '97-up Vortec roller Vortec Special engine, with oilpan + covers
$3649*
454 (7.4) V8 '71-'90 gen. 4
$3,369*
MOST
454 (7.4) V8 91-96 gen. 5
$3,589*
454 (7.4) V8 '94-up gen. 6
$3,689*
8.1L GM 385 HP
CALL*
8.1L GM 425 HP
CALL*
302 (5.0) Ford Flat Tappet
$2,249
302 (5.0) Ford GT40
$CALL$
351 (5.8) Ford '77-'86
$2,145
351 (5.8) Ford '87-up
$2,145
460 (7.5) Ford (Early)

460 (7.5) Ford (Late)

$2,725

$3,030

318 (5.2) Chrysler 240 hp
$2,289
360 (5.9) Chrysler 275 hp
$2,218
228 (3.7) Mercruiser
$2,895*
Compare These NEW Engines below to the Remanufactured Models Above:
NEW Marine Engines from
GM, Ford, & Crusader
These are the same engines that Mercruiser, OMC, Volvo Penta, Crusader, etc. purchase new from GM and Ford.
GM Applications

181
(3.0L)
LH
140 hp
Vortec Base ** NO CORE!!
7609
350
(5.7L)
LH
270 hp
87-96
Non-Vortec Roller
12 Bolt Intake
$4,849

NO CORE

350
(5.7L)
RH
270 hp
87-96
Non-Vortec Roller
12 Bolt Intake
$5,399

NO CORE

350
(5.7L)
LH
325 hp
97 up
Vortec Roller
8 Bolt Intake includes
relevator wheel,
crank sensor,
water pump, &
harmonic balancer
$5,499

NO CORE

350
(5.7L)
LH
325 hp
Power Pack Special
$7,299

NO CORE

454
(7.4L)
LH
330 to
350 hp
Gen VI Roller
Oval Port Head
$7,447
454
(7.4L)
LH
410 hp
Gen VI Roller
Rect. Port Head
$8,109
377
6.2L 'Stroker'
LH
340
Direct Replacement for MerCruiser 383 EFI / Carb
$7,609

NO CORE

502
(8.2L)
LH
435 hp
Gen VI Roller
Rect. Port Head
$8,799

One year Warranty on all GM Marine Base Engines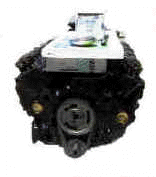 Above photo of Pre-Vortec – Vortec Engine also Available
BRAND NEW Special Vortec & Pre-Vortec Engines
1987-2007 New Base Engines with valve covers,
oil pan, and timing cover
(standard rotation center bolt valve cover application only)
We have 350 & 454 RH Opposite Rotation…Call!!
Copy of Remanufactured Marine Engine Limited Warranty
The remanufacturer warrants that their remanufactured engine shall be free of defects from materials and/or workmanship, when installed properly by a competent technician, used for normal use and serviced for the periods of time or distance from date of purchase, whichever occurs first, as listed below:

This warranty is expressly in lieu of any other warranty expressed or implied, including but not limited to merchantability or fitness for a particular purpose, and all other obligations or liabilities on the part of the remanufacturer. By purchasing this engine it is understood that customer accepts and agrees to comply with the terms of this limited warranty.

Installation Card must be completed and returned within 10 days of installation to validate warranty policy.

MARINE WARRANTY TERMS: Long Block Engines sold and cataloged as Marine Engines are specially prepared for this specific usage and carry a warranty term of 18 months (Bench Labor Only) with a replacement liability of $650.00. Engines used in marine applications that are not cataloged as such carry no warranty, and no provision for labor claims. Marine Engines, Inc does not recommend using engines in the marine capacity unless they have been cataloged as such.

LABOR PAYMENTS: Authorized repairs will be compensated at a rate not to exceed 100% of the Mitchell, Motors or Chilton Repair Manuals published applicable flat rate schedule. Hourly rates for all authorized labor claims will be paid in accordance with the original installation rate, not to exceed $65.00 per flat rate hour.

PRODUCT REPLACED UNDER WARRANTY: Product replaced under warranty carries the remainder of the original product's warranty term.

STANDARDS: Subject to limitations listed herein, we, as its option, shall repair or replace a product within the warranty term after the determination by us that the product is defective. All products are returned to us for inspection. Products not returned to us will not be warranted. All repairs and/or replacements covered by this warranty must be authorized by us. Unauthorized repairs will not be paid.

MAINTENANCE REQUIREMENTS: Valves must be readjusted (if necessary) at your expense, and the oil and filter changed for marine engines at 5 hours. Failure to have these services performed will VOID the warranty. The engines oil and filter must be changed for marine engines every 2 months or 25 hours, whichever comes first. Records of the maintenance performed, receipts and work orders must be kept. The parts, labor, date, mileage or hours, and service performed should be documented on the receipts.
Failure to perform these basic operations will result in a voided warranty.

EXCLUSIONS AND LIMITATIONS

A. This Limited Warranty does not cover damage or loss due to the following services:

1. Misuse, maintenance neglect, abuse, vandalism, abnormal operation or accidents;
2. A BREAKDOWN occurring to a BOAT operated outside the United States of America or Canada;
3. Defective or improper installation;
4. Improper break-in;
5. Environmental conditions, overheating or freeze cracks;
6. Burned, scored or melted pistons;
7. Lack of lubricants or fluids;
8. The cost of repair to correct poor performance, low compression and/or oil consumption, (i.e. pistons, piston rings, cylinder taper, valves, valve guides, valve seals and valve seats). Damage caused to the above listed parts by predetonation or detonation are not considered a breakdown under the terms and conditions of this CONTRACT.
9. Excessive cost to repair or replace a listed component/part. Reasonable cost being: Manufacturer's suggested retail price on parts. Labor charges will be determined by the use of a flat rate manual, for the repair or replacement of a listed component/part.
10. Foreign material in combustion chamber or oil pan;
11. Failures of components or parts not furnished or otherwise approved by remanufacturer for installation, or components or parts unsuitable for use with a warranted engine or part;
12. Abnormal wear, tear, use of an engine or part for purposes other than for which it was originally intended or a change from original application;
13. Modifications and/or alterations to the ENGINE. The repair and/or replacement of parts which do not meet or exceed manufacturer's specifications.
14. Damage to pistons or other engine components from detonation or pre-ignition;
15. Crankshaft thrust surface worn due to defective or improperly installed clutch, torque converter or motor mounts;
16. Subsequent damage to listed component/parts due to the failure of the operator to immediately cease operating and protect the boat when a breakdown has occurred.
17. Internal modification with aftermarket performance parts;
Loss or expense to the BOAT protected under the contract when the hour meter is inoperative or stopped, improper recorded calculation, tampered with or altered.
18. Over fueling or other dilution of lube oil.

B. This Limited Warranty does not cover or provide payment or reimbursement for the following services:
1. Replacement oil, anti-freeze, fluids or other substances;
2. Towing charges or other substitute transportation;
3. Diagnostic time, labor (except as set forth above) or service calls;
4. Gaskets or other parts or items associated with but not included with warranted engines and/or parts;
5. Transportation charges or lodging;
6. Loss of time, income, sales or profits; loss of use of vehicle; telephone calls or communication expense;
7. Lift, dock or storage fees;
8. Tune-ups or replacement of belts, hoses or maintenance items; routine, regularly required maintenance;
9. Injury or death to persons or damage or destruction of property; consequential or incidental damages.

CLAIM PROCEDURE

Immediately after the discovery of a potential defect and prior to the expiration of the warranty period, the customer must comply with the following procedure:
A. Discontinue use of the engine or part.
B. Contact the installer of the engine before contacting us.
C. Contact distributor to obtain prior authorization and a warranty tracking number prior to undertaking a field repair or returning the engine or part to us or the authorized repair station.
D. Unless a field repair is specifically authorized by us, the engine or part thought to be defective must be returned to us or our authorized inspection station for evaluation, with the return location to be determined at our sole discretion. All returned engines or parts must be accompanied by a copy of the customer's original invoice or receipt showing the date the returned engine or part was purchased by the customer.
E. Returned engines must be returned with all parts intact that were originally furnished with the engine or charges will be made for missing parts.
F. When submitting an authorized field repair bill for payment under this warranty, the following information must be included:
– 1. Our distributor from which the engine was purchased;
– 2. Date of installation, part number, serial number, invoice number and warranty claim number supplied by us;
– 3. Owner's name;
– 4. Copy of authorized repair bill and work order;
– 5. Reason for engine or part failure.
– 6. Authorized repair request must be made within thirty (30) days after the repair is made or this warranty is void.
– 7. Type of boat.
Save
Save
Save